Start of main content
Live from Savoy Place: London's spectacular skyline, online
Published: Thu 20 Aug 2020
Livestreaming from the top of Savoy Place, our webcam pans from St Paul's Cathedral in the east to the Palace of Westminster (the Houses of Parliament) in the west, capturing some of London's most iconic monuments along the way.
It's an amazing view that visitors from the building can take in from events on the Johnson Roof Terrace or in the Riverside or Maxwell Library.
From the long-standing…
If you've ever been to an event at Savoy Place, you'll have spotted some of London's well-known landmarks like The Shard, the London Eye, and the Palaces of Westminster.
In one sweeping view via our webcam, you'll also catch a glimpse of Waterloo Bridge leading down to the South Bank, which includes the Royal Festival Hall, Waterloo station, the Royal National Theatre, as well as the BFI Southbank – all within minutes walking-distance from Savoy Place.
London Blackfriars Railway Bridge is also easily spotted from the webcam, with platforms spanning the River Thames (the only station in London to do so), plus it's is only an 11-minute walk away from Savoy Place and is close to attractions such as St Paul's Cathedral. 
…to the new
Since Savoy Place was refurbished back in 2015, London's local landscape has continued to evolve into a thriving metropolis of outstanding structures, from skyscraper luxury homes to towering hotels.
One of the newer additions to London's ever-growing busy skyline, Aykon London One, also known as "Versace Tower", is owned by Italian fashion house Versace and is Britain's first 'branded' high rise with fashion-statement homes.
Once home to Sainsbury's supermarket headquarters, One Blackfriars is now a mixed-use development, including flats, a hotel, and retail space. Informally, One Blackfriars is known as The Vase or The Boomerang, due to its unique shape which makes it easily recognisable on the London skyline.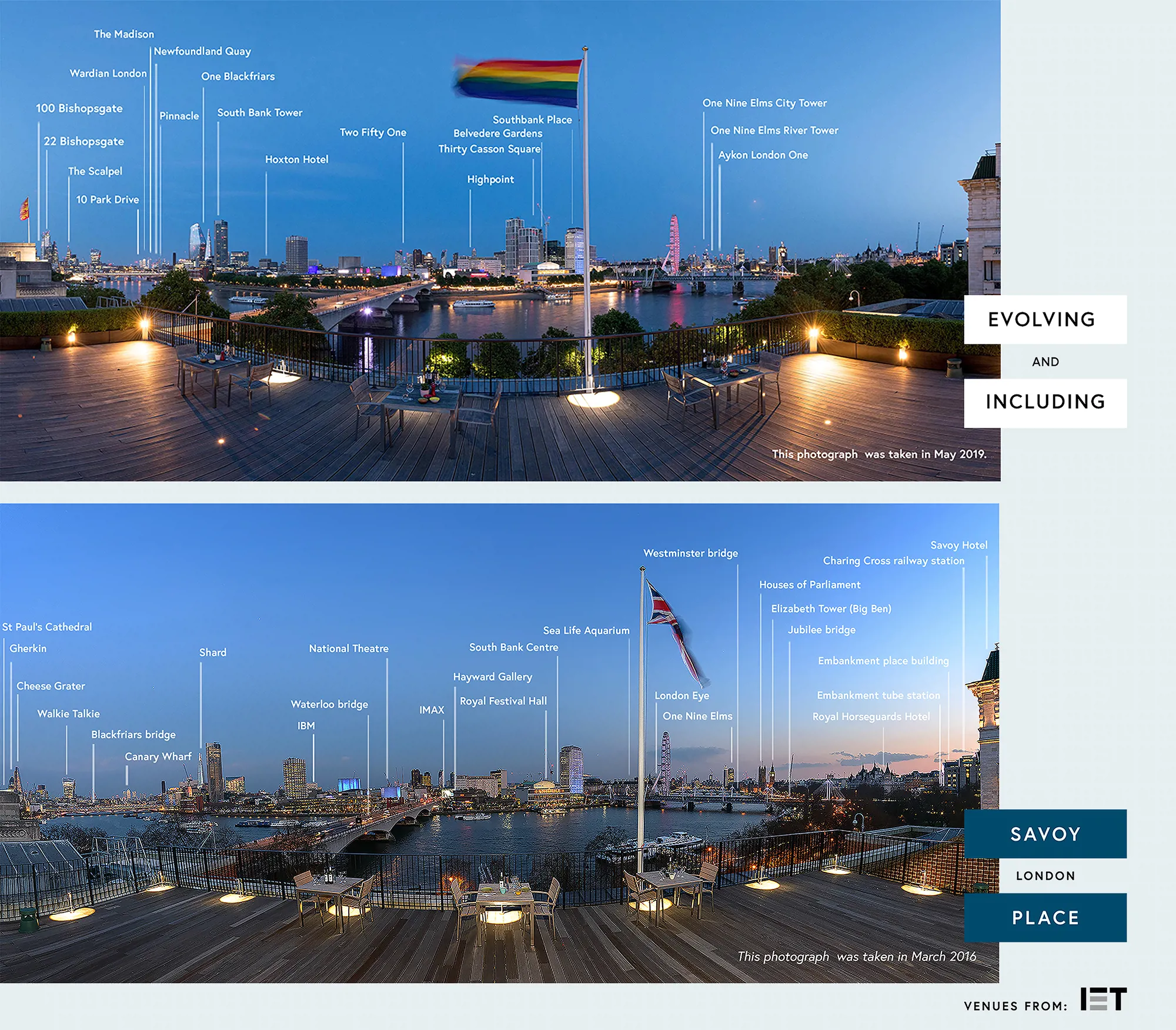 Savoy Place is accessible by all major transport links, but we're also in walking distance to the capital's most remarkable attractions.

With the bustling Covent Garden, historic Trafalgar Square and the Royal St. James's Park all within a 15-minute walk of our venue, it's why we love being in the heart of London.