Start of main content
Sustainable events at Savoy Place
In 2022, the IET achieved the silver Investors in the Environment Accreditation for the sustainable practices across the organisation, including IET Venues.
Here at Savoy Place we also received a platinum ECOsmart Accreditation, which is given to only a few exceptional hotels and venues that show extensive measures taken to fully embrace environmental sustainability.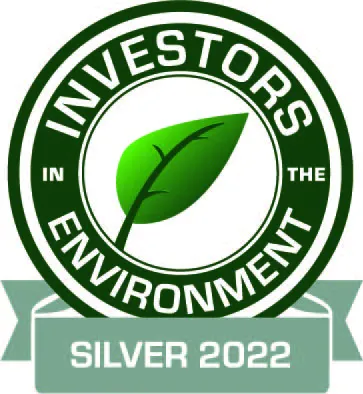 Here are some of our approaches adopted across the events we run and our offices:
Venue
There's a water harvesting system in place which collects rainwater to then be used to water the plants and flowers in Faraday Garden at the front of the building.
All windows in the building are double glazed.
Digital signage is used to guide guests around the building.
Whiteboards in some meetings rooms reduce the need for flipcharts and there are interactive boards in members brainstorming rooms.
Clover Eco cleaning products are used which have the European eco accreditation and are sourced from a UK based supplier.
Toilet tissue is manufactured from recycled paper from FSC certified forests.
Clients are provided with water which is bottled in-house in reusable glass bottles.
After the refurbishment in 2015, the building received a BREEAM Good Rating (sustainability assessment method).
Waste and recycling
None of the building's daily waste goes to landfill, it is either recycled or incinerated then converted into energy.
We recycle all glass, paper, ink/copier cartridges, batteries, light fittings plastics, cans, and food.
Staff are reminded on a monthly basis to Reduce – Reuse – Recycle.
Clients are responsible for taking away their waste.
Energy
Toilets are fitted with low water systems and sensory taps are installed in the washrooms.
All rooms have energy-efficient heating/cooling systems.
The lifts in the building are energy efficient (powering down to sleep mode when not in use).
The BEMS System (a building energy management system) is in use - a method to monitor and control the building's energy needs.
CO2 emissions are limited by optimising the use of gas and electricity and these services are reviewed bi-annually, plus we're investigating using ecological suppliers.
LED Lights with motion sensors are installed in non-meeting rooms
Equipment (such as photocopiers) is set to automatically standby when not in use.
Printers are set to automatically print double-sided.
Duty managers and the sales team use tablets for daily sheets rather than printing paper.
Air quality
All rooms feature automatic ventilation based on the number of people occupying it.
The efficiency performance air conditioning equipment is checked on a regular basis.
Air quality reports are reviewed annually and recommendations are acted on.
Transport
Our state-of-the-art AV means we can offer effective video-conferencing facilities to reduce the need for all delegates to travel to events.
There is no parking on-site. Instead, staff, visitors, members, and clients are encouraged to use public transport.
Catering
The catering team will offer edible waste food to staff to consume on site (due to health and safety it can't be offered externally).
Reusable cups are on sale in the Faraday Kitchen with a discount offered on hot drinks if used.

Customers can choose items from our Food Equilibrium (Food EQ) menu. It involves reducing the amount of meat protein within a dish, without sacrificing flavour in the selections.

We offer a reduced price for the chef's choice menu in a bid to reduce waste.
All fish and seafood are MCS approved, only using green light seafood, and all chicken, beef, lamb, and pork are red tractor approved.
We only use free-range eggs, nothing from caged hens.
A single-use plastics policy is being introduced.

Currently using paper straws but looking into the pasta straws.
Boxed sandwich packaging in the members' Faraday Kitchen is plastic-free.

Community sourcing policy i.e. sustainable, responsible local and regional procurement, reducing food miles.
We're always looking into future opportunities to reduce waste as new technologies are introduced.