Start of main content
Riverside Room Investment
Published: Thu 18 Apr 2019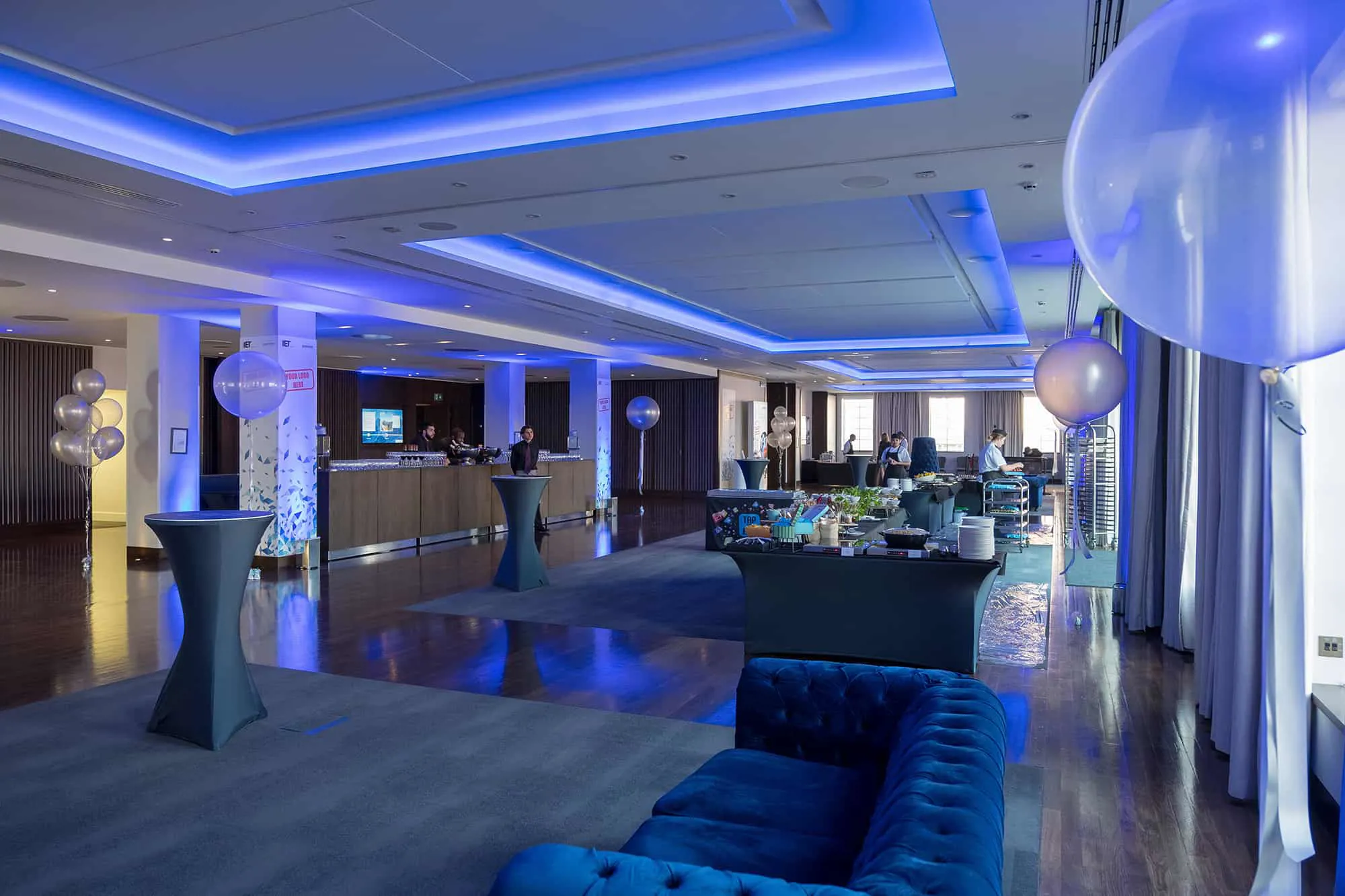 This investment allows the Riverside Room to be used in full landscape format, with every delegate in the room having full visibility of any event thanks to new screens and improved audio.
With a capacity for up to 300 guests and stunning panoramic views from the City to Westminster, this versatile function room is the ideal location for award dinners, banquets, conferences and many more events.
Available to book now.
AV upgrades tech specs:
Two (3.5m x 2m) video walls will be installed
Upgrading two 75-inch screens to 98-inch screens
Two PTZ cameras will be added to the room
New ceiling lighting bars and LED stage lights
New audio speakers around the video walls including two subwoofers added to existing speaker matrix
New CAT6 and audio/lighting network cabling
New Watchout hardware deployment
Here are just some of the ways our new technology can enhance your next event.
New 4k screens
Brand new ultra HD 4k screens will not only make any presentation look stunning, but they'll also be completely programmable, and being able to programme presentations results in minimal setup time and costs. Another great feature of having programmable 4k screens will be the option for events to display table plans digitally, which will provide flexibility for amendments on the day of an event.
The imagery on screens won't have to be fixed, enabling multiple logos to be shown on one screen, whilst videos with branding to play with sounds on another. Or for an even more eye-catching display at your event, why not choose to have sliding imagery across all the screens in the room.
PTZ cameras
It's difficult to find the perfect venue room, especially if you've got upwards of 100 delegates who all want a good view of a speaker. These new cameras will mean a speaker or presenter can be filmed from any angle (no matter how tricky or how much they move around the room), and the picture will be relayed across the screens throughout the room, resulting in the whole room having a great view.
For events that require their speaker to be recorded for live-streamed, perhaps for delegates who aren't able to make it, these cameras will make this possible.
Watch out software
This cutting-edge video mapping software will be used to compose and manage multiple content such as videos, images, live feeds and animations, and play them out across multiple screens and video walls throughout the room perfectly synchronized, either simultaneously or at pre-set times.
The ability to map every screen allows the video to be zone-able in the room, along with sound this gives the opportunity for different content to play in different areas on the room, perfect for exhibitions.
This new software also enables a multitude of branding options for events, from reinforced branding across all screens for events such as exhibitions and award dinners, to neutral graphics during drinks receptions.
Object reference not set to an instance of an object.