Start of main content
The benefits of venues with outdoor space
Published: Wed 14 Aug 2019
Easily overlooked, sometimes forgotten, but always thought of when the sun makes an unscheduled appearance; ignoring it might narrow down your choice, but ticking it opens a whole new set of outdoor opportunities.
Here are our top reasons why we believe ticking the box ensures you're always thinking outside it.
You can enjoy the good old British weather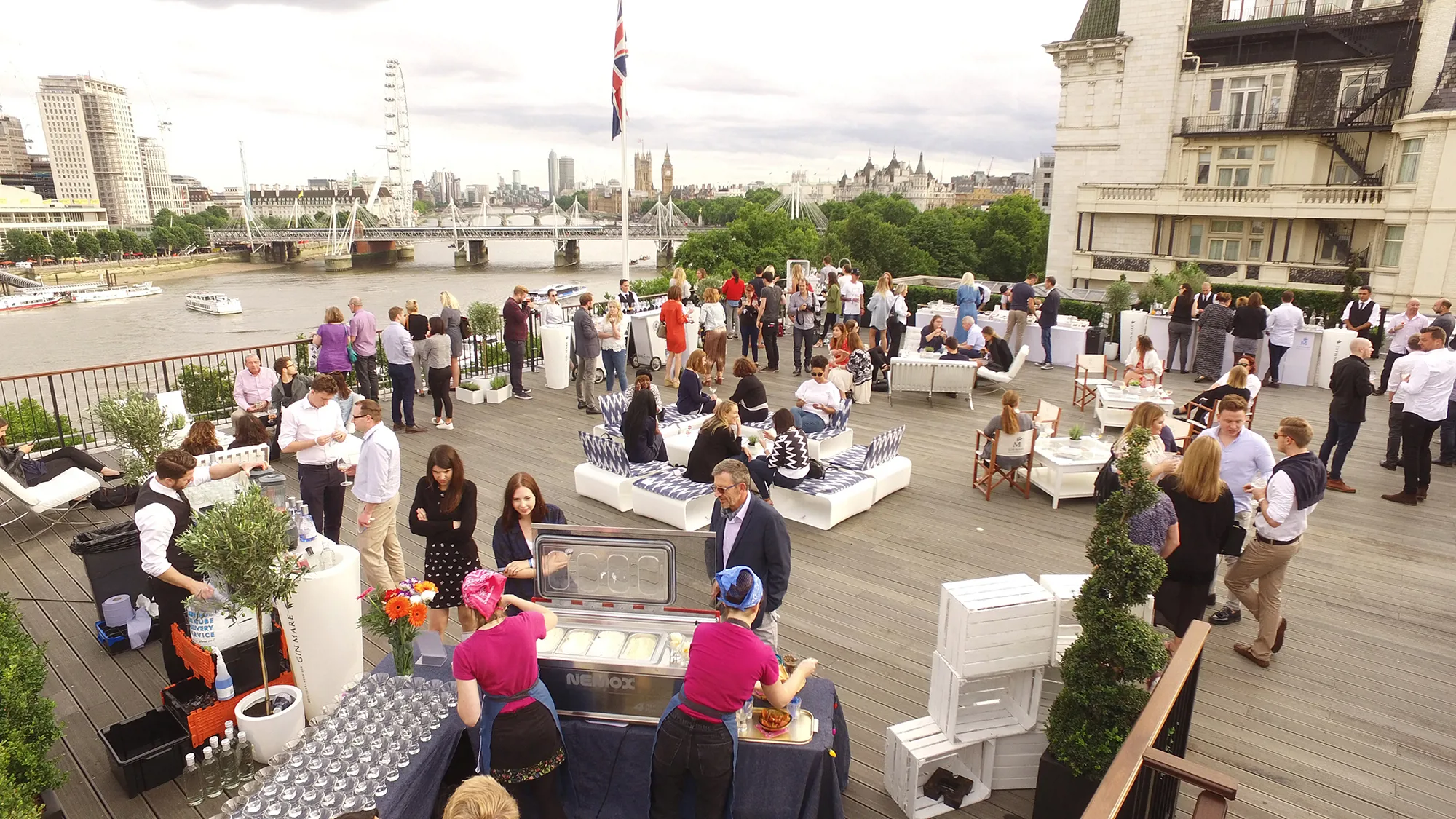 We know it's one of the most topical things to talk about in the U.K, but the weather doesn't have to put you off booking a venue with outdoor space just in case you don't use it.
Even on mild spring days or fresh autumn ones, it's important to encourage guests to take some time away from being inside the four walls of your event space.
Booking a conference venue that accommodates this is always a good decision.
Not only does it provide you with a change of scene, but it clears heads, reinvigorates hard-working minds, and brings a new sense of perspective to the proceedings.
There are more significant health reasons, too. Fresh air helps our immune systems fight off disease more effectively and it also increases our serotonin production, meaning feel-good endorphins are released when we take a few deep breaths and really breathe.
Add to that improved heart health and higher energy levels, and you're running out of reasons not to choose a venue with outside space. We do, however, have more.
Outside space can form part of your event
Whatever the reason for your event or conference, the chances are you will always need a little extra space at some point throughout the day.
Across both of our venues, IET London: Savoy Place and IET Birmingham: Austin Court, we've hosted clients from so many industries and sectors, whether food and drink companies or even fashion houses, clients are always looking for something you don't see every day.
The outside space we have at each venue is completely individual and often features heavily in their decisions.
It also works perfectly for clients looking to showcase something only outside space can provide – room for sports brands to launch their products, for example, or a brand to do a fashion shoot.
Perhaps you want to organise something physical, like a yoga class or a more upbeat team-building activity.
Hosting any of these things outside is essentially an extension of the venue.
The only difference is that instead of outside space being a 'nice to have' you can now use it to make the venue work harder for you.
It's easily the most practical feature
There are lots of reasons using outside space can be far more practical than using the inside alternative. For example, older listed buildings may have indoor rules and regulations, so outdoor functionality can solve those problems (think drinks receptions on a terrace as opposed to in a makeshift foyer).
Outside space can also showcase the area to guests.
For example, one of the draws of IET London: Savoy Place is the stunning Johnson Roof Terrace, which clients can book in conjunction with the Riverside Room, and is a great space where clients can enjoy drinks receptions, lunch, coffee breaks and have some free time observing and snapping the panoramic London views!
The Johnson Roof Terrace's views are so iconic it is regularly used as a backdrop for filming.
Clients enhancing their event at Savoy Place through booking The Johnson Roof Terrace can rest assured that there is a wet weather contingency plan as the terrace can only be booked with the Riverside Room – a versatile large space complete with state-of-the-art equipment.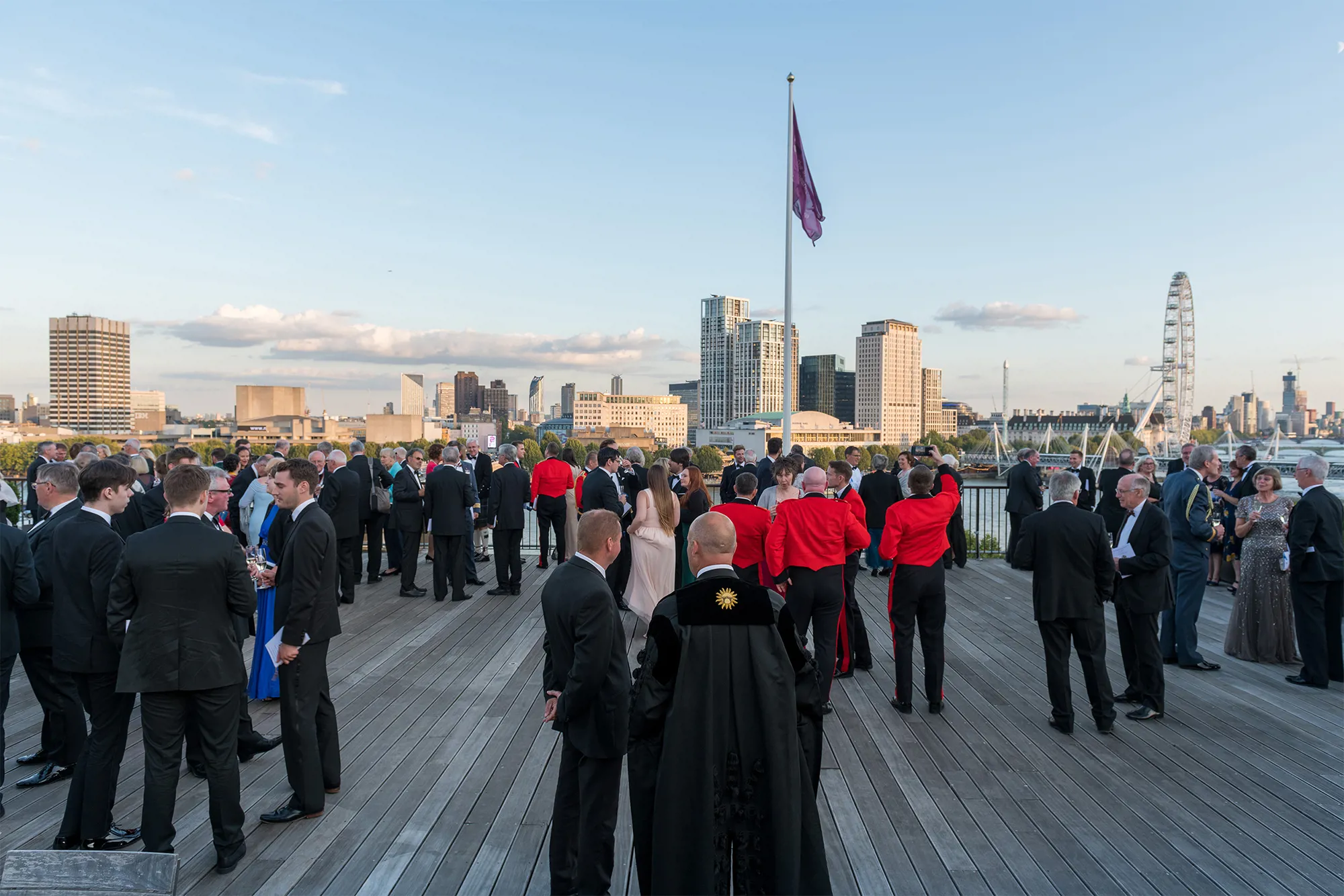 IET Birmingham: Austin Court has a courtyard garden, which is a great space for any city centre to have, especially close to the canal it makes lung-busting fresh air walks around the UK's second city a popular pastime.
The space can even be booked to host summer BBQs and garden parties.
Even during cooler climes, where the landscape takes on a different demeanour, an outdoor occasion is still as vibrant.
So next time you're beginning the search for the perfect venue, put outside space at the top of the list; you'll be ticking boxes for the guests, for your event, and for your brain.