Start of main content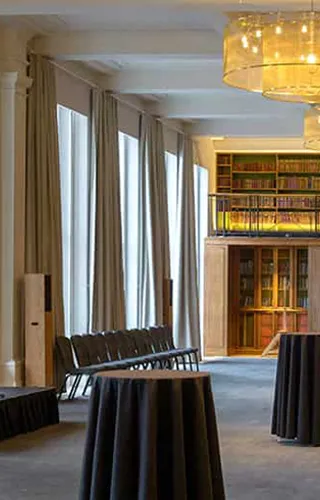 Two private riverside balconies and large windows ensure the Maxwell Library makes the most of its central London positioning overlooking the skyline of the city and views of the river.
Just outside in the library lobby, guests are invited to explore the IET's in-house exhibition – 100 ideas that changed the world. A must-see when visiting Savoy Place, it is an impressive display of inanimate objects, vehicles, engineering concepts and even microscopic technologies that have changed the way we live.
This room is ideal for...
Drinks receptions or dinners
Training
Networking events.
What's included in room hire?
Maxwell Library Foyer as registration area in front of our '100 Objects' exhibition
Complimentary Wi-Fi
Direct access to two private riverside balconies
A choice of set ups and furniture to suit your needs
Latest IT facilities for event filming, live streaming and production
HD screens with on-site AV team on hand to assist with digital branding.
Explore the Maxwell Library
Evening rate
(6pm to 11pm)
Did you know?
The IET's library started its story in 1873 with the donation of a collection of books by Sir Francis Ronalds, a scientist and inventor considered by many to be the first electrical engineer.
The Maxwell Library later got its name in recognition of James Clerk Maxwell who formulated the classical theory of electromagnetic radiation in the nineteenth century.
Although the library has developed into a fully functioning modern event space, it has maintained its original charm and continues to house a large number of historical technology and engineering books adorning floor to ceiling bookshelves surrounding the main function area.