Start of main content
Central London venue with a rooftop space
Published: Fri 17 Jun 2022
Choosing a venue to host your event is never an easy process. The seemingly endless list of questions you need to ask yourself can be daunting.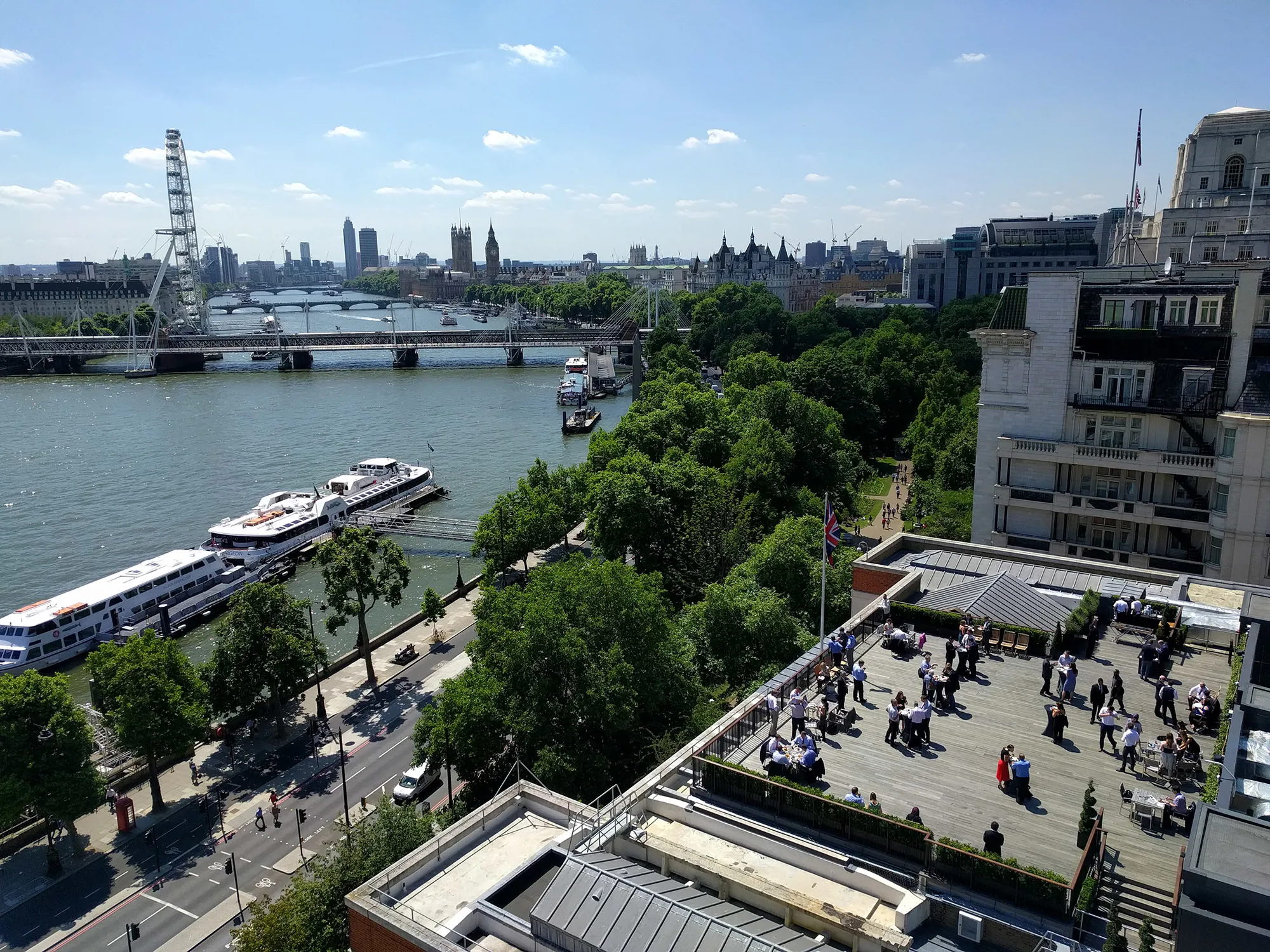 Panoramic views of central London to impress your guests
One question that is often left out is the WOW factor to impress your guests and help ensure they leave with a positive view of your event.
Whilst choosing a historic venue, or a venue with excellent catering and AV facilities can impress your guests; a rooftop terrace with panoramic views of the River Thames and the London skyline can provide the wow factor for any event.
Savoy Place can fulfil all the usual questions when choosing a venue. As a historic venue situated on the River Thames and with the Riverside Room and Johnson Roof Terrace it excels at offering your guests an escape from the hustle and bustle of the city below along with a stunning backdrop that offers the right environment for any occasion whilst making an impact on your guests.
Whilst the Riverside has a small balcony overlooking the Thames, the Johnson Roof Terrace provides a central London rooftop event space allowing for up to 200 guests to network whilst admiring views from Canary Wharf downstream to the Houses of Parliament upstream and an uninterrupted view of the South Bank.
A venue offering an integrated rooftop event space is rare in London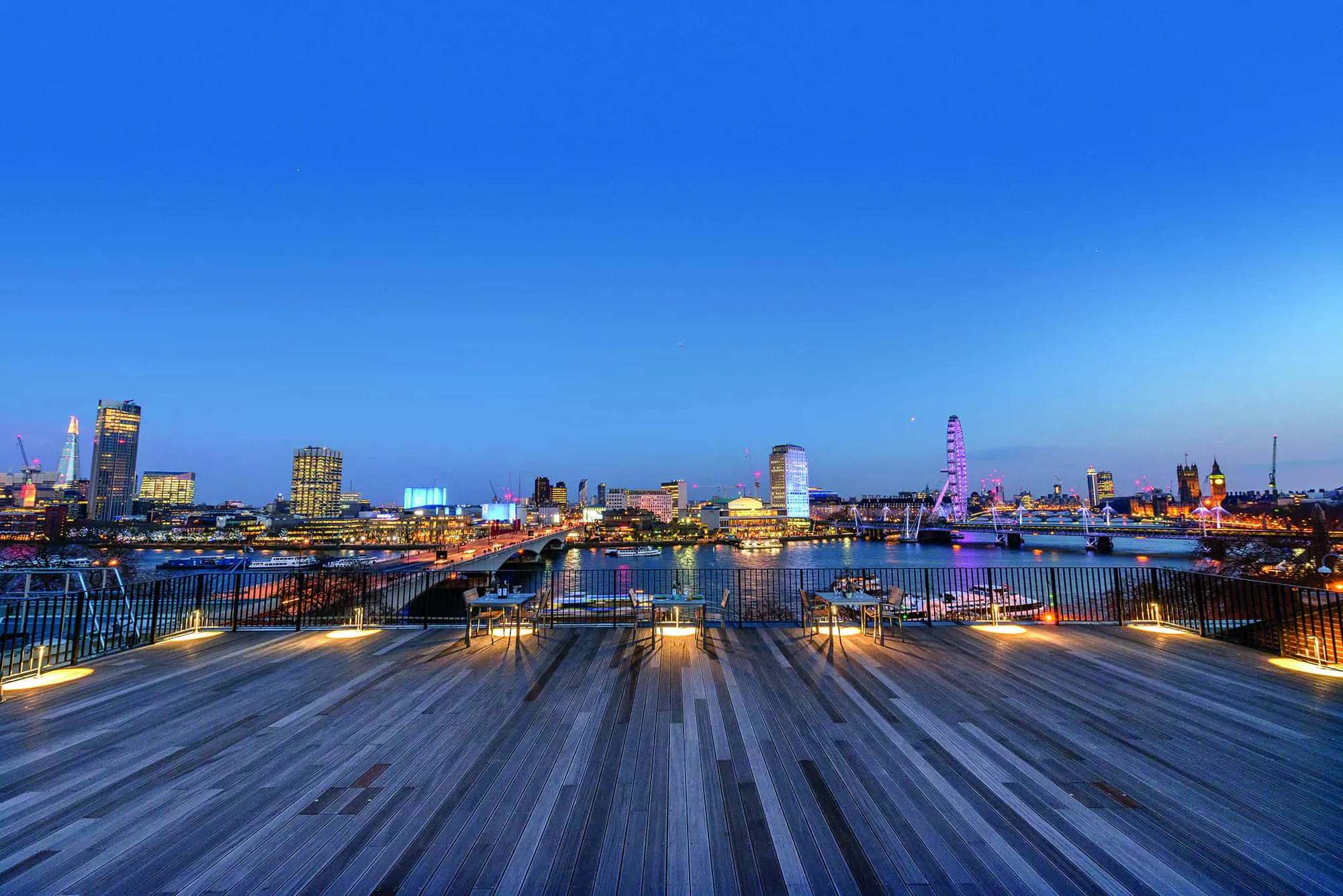 Situated at the top of Savoy Place, the Riverside Room and the Johnson Roof Terrace above it can offer a fantastic integrated flat floor event space that can be tailored to almost any event format or can be used in conjunction with our bespoke lecture theatres such as the Kelvin and the Turing to offer a fantastic reception package allowing guests to move between both rooms.
Not only does it provide you with a change of scene, but it clears heads, reinvigorates hard-working minds, and brings a new sense of perspective to the proceedings.
Nowadays with some people still nervous about enclosed face-to-face events, the Johnson Roof Terrace allows an open-air extension of the venue without moving off-site, allowing people to 'escape' for some fresh air whilst still being able to network.
The British weather is no problem!
We know it is one of the most topical things to talk about in the U.K, but the weather doesn't have to put you off booking a venue with outdoor space just in case you don't use it.
With flexible options including gazeboes and heaters available, even the most inclement weather won't stop your guests being able to enjoy the fresh air and network outdoors.
Tailor the outdoor space to work for your event
IET London: Savoy Place has hosted events from many industries and sectors, whether food and drink companies or even fashion houses who are always looking for something that is versatile and you don't see every day.
It also works perfectly for clients looking to showcase something only outside space can provide – a sense of exclusivity on top of a magnificent building that has room for sports brands to launch their products, for example, or a brand to do a fashion shoot.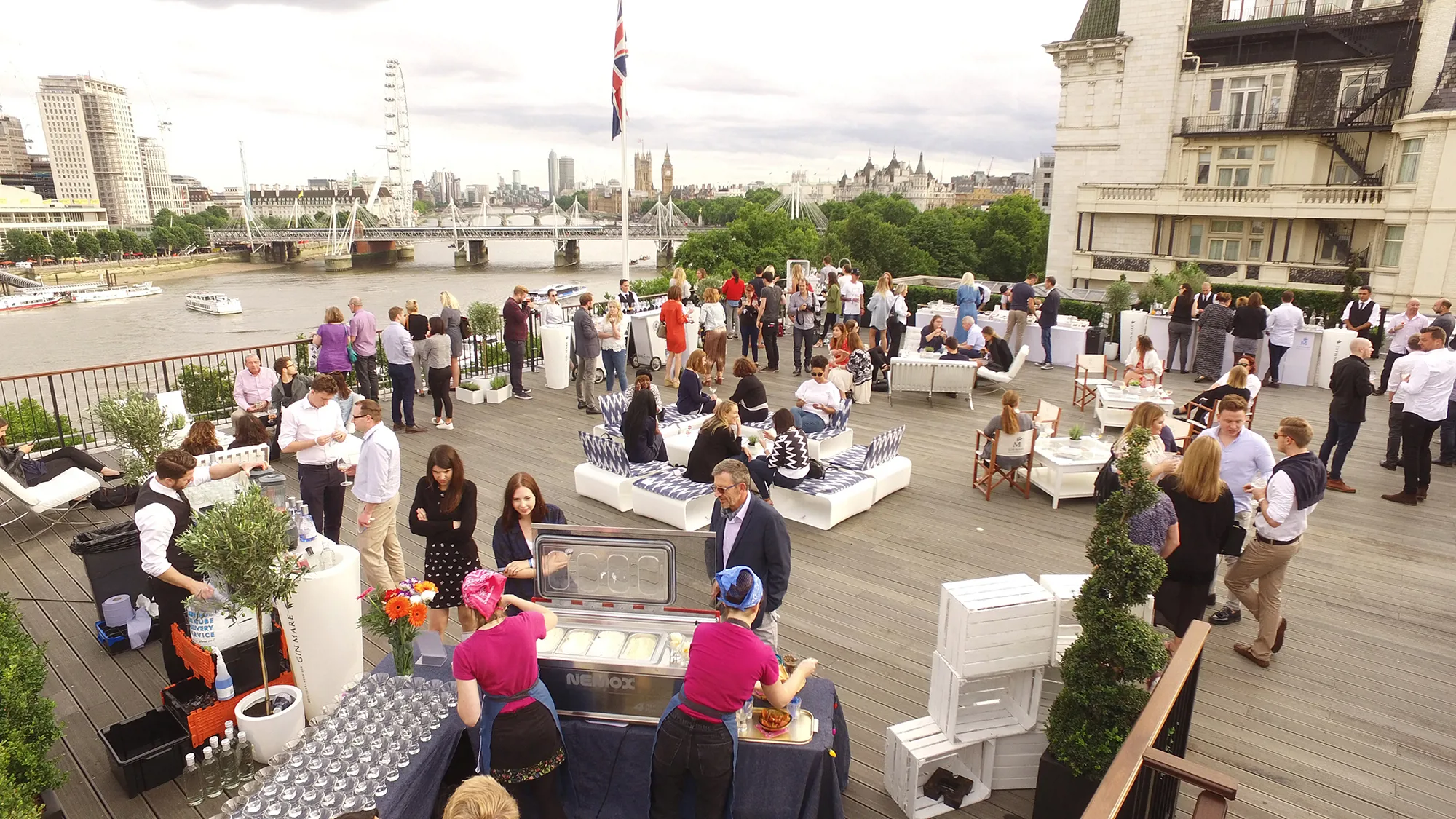 Perhaps you want to organise something physical, like a yoga class or a more upbeat team-building activity.
Hosting any of these things outside is essentially an extension of the venue.
The only difference is that instead of outside space being a 'nice to have' you can now use it to make the venue work harder for you. 
Whatever you are planning holding a rooftop event is an unforgettable experience for your guests and transcends an event from dull to dazzling.  We can help you make your event an exciting and memorable experience, talk to one of our experts today about your event brief.