Start of main content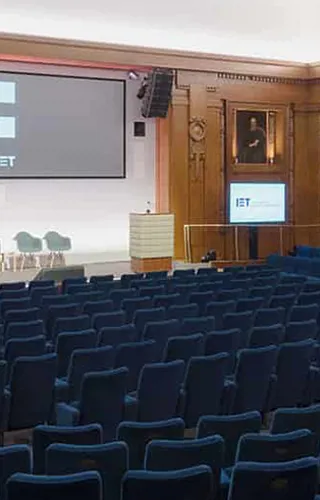 Hosting up to 451 people in tiered seating, the lecture theatre comes with 391 ground level seats and a further 30 on each of the two balconies, also accommodating up to nine speakers on stage.
Whether presenting to a seated audience or extending the reach of your event through live streaming, the Kelvin Lecture Theatre offers unparalleled digital opportunities to showcase your brand and to ensure optimum engagement with your speakers and audiences.
This room is ideal for...
What's included in room hire?
Dedicated on-site staff support for AV and bespoke branding solutions
2 x 16K HD projectors using double edge-blending technology
7.5m wide infinity supernova screen and 2 x 75" side screens flanking the stage
Cinema quality 5.1 surround sound capability
3 x in-built HD remote control PTZ cameras and optional video link to the Turing Lecture Theatre, increasing audience capacity to 626
Power and USB sockets in most seats
Complimentary high-speed Wi-Fi.
Explore the Kelvin Lecture Theatre
Kelvin Lecture Theatre hire costs
The price of hiring the Kelvin Lecture Theatre includes all of the above facilities and excludes VAT. An appropriate sized registration and catering area is required as part of the event.
For more information view our current room hire costs.
451 (tiered plus six usherette-style)
Evening rate
(6pm to 11pm)
Did you know?
This lecture theatre was named after Sir William Thompson, Baron Kelvin of Largs – lookout for his bust displayed in the foyer!
Lord Kelvin was acknowledged as the leader in his field during his lifetime, inventing telegraph instruments, the mirror galvanometer and other instruments used on the first transatlantic telegraph scale.
The Kelvin Lecture Theatre has since been used for many ceremonies and events to recognise outstanding achievements, inventions and breakthroughs in STEM.